Khongoryn Els sand dunes lie at the extreme south of the Gobi Desert, extending up to the foot of the high Altai Mountains range. The sand dunes spread over a band of 6 to 12 km wide and 180 km long and include dunes that can reach 240 meters in height.
4. Quatrième jour au désert de Gobi
Nous quittons en début de matinée notre camp à l'entrée de la vallée de Yol pour notre prochaine destination: les dunes de sables de Khongoryn Els. Peu après notre départ, nous abandonnons le dernier bout de route goudronné pour s'allouer au plaisir de la conduite hors piste. Nous ne reverrons plus de routes goudronnées pour les 4 prochains jours.
Nous quittons peu à peu les montagnes du East Beauty et traversons des vastes plaines balayées par de fortes rafales. Il n'a pas plu depuis plus d'un mois dans cette région, mais il reste encore de nombreux endroits verdoyants où se rassemblent les troupeaux de chameaux, chèvres, moutons et vaches. Vers 11h, nous apercevons les premières dunes de sables qui deviennent de plus en plus imposantes à mesure de notre avancée vers l'Ouest. Nous atteignons notre camp qui fait face aux dunes en début d'après midi. Il est tenu par une famille de nomades possédant une vingtaine de chameaux, plusieurs centaines de chèvres et quelques chevaux. La famille nous accueille autour d'un verre de thé et le mari nous fait déguster la Snuff locale, qui nous débouche le nez en ordre 🙂
Le soleil de l'après midi se fait torride et nous oblige à la sieste dans notre yourte. En fin d'après midi, nous partons pour un tour mémorable à dos de chameaux. De retour au camp, Zolzaya nous prépare un délicieux souper et nous partons ensuite à l'assaut des dunes pour le coucher de soleil. La dune fait plus de 200 m de haut nous offrant une vue merveilleuse sur la région.
A la nuit tombée, le troupeau de chèvre s'est rassemblé devant le camp de yourtes. Se rendre aux latrines devient un vrai défi car il faut zigzaguer entre les bêtes et essayer de pas trop les effrayer.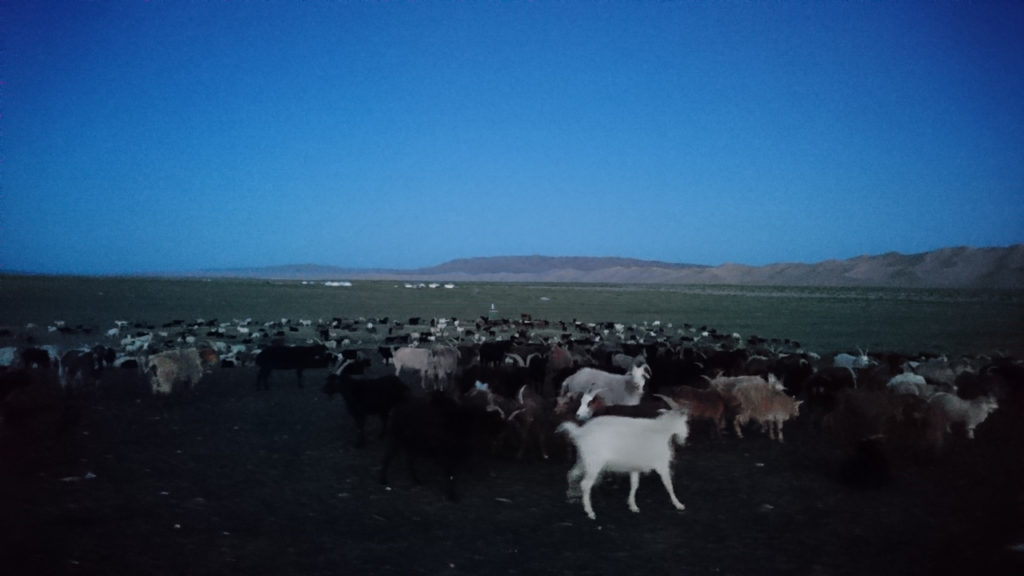 Les enfants de la famille quand à eux profitent de la fraîcheur de la nuit pour s'adonner à la lutte, vrai sport national en Mongolie.