Baofeng Lake is bordered by lush green trees and shrub-clad stone peaks of various shapes that enclose the emerald lake and give it a fairytale-like atmosphere.
---
Baofeng See
Der Baofeng See liegt 10 Minuten mit dem Bus von Wulingyuan. Wie immer in China, müssen wir am Eingang des Parks ein Ticket kaufen. Die Natur zu besuchen ist hier nicht gratis.
Ebenfalls wie immer in China, hat es viele Menschen. Wie aber auch immer in China, ist man praktisch alleine, wenn man sich ein wenig vom Hauptstrom entfernt. Das ist hier nicht anders. Die meisten nehmen den Shuttlebus zum Seeufer, wir hingegen nehmen einen kleinen Fussweg. Der Weg führt uns dann auch zu einem anderen Landesteg als der Shuttlebus ansteuert. Zuerst sind wir überhaupt die einzigen, etwas später stösst noch ein englisch sprechendes Pärchen mit Reiseführerin dazu. So sind wir in diesem grossen Boot zu fünft als wir ablegen.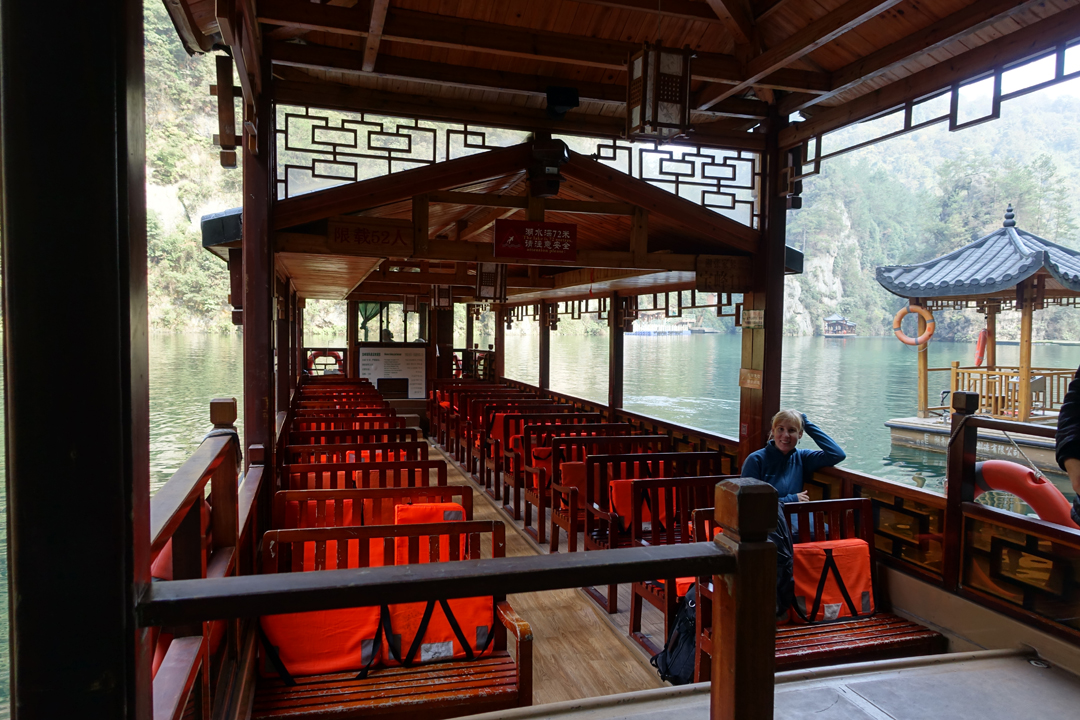 Wir haben Glück und dürfen von den Erklärungen der Reiseführerin profitieren. So wissen wir jetzt, dass der See im Schnitt 72 m und an der tiefsten Stelle 120 m tief ist. Zudem ist er künstlich und wurde in den 1970ger Jahre als Wasserspeicher angelegt. Praktisch jede Steinformation hat einen phantasievollen Namen. Zum Beispiel heisst einer: "Pfau zeigt seinen farbigen Schwanz" oder "Goldene Kröte beisst den Mond" – wahrscheinlich muss man den perfekten Winkel erwischen, damit man die Namen nachvollziehen kann… oder wir haben einfach zu wenig Phantasie 😉
Zwischen den Felsen tummeln sich in regelmässigen Abständen Touristenboote. Für das besondere Erlebnis fahren die Boote auf der Rundfahrt zweimal an einem Holzhäuschen vorbei, und, falls genug in die Hände geklatscht wurde, wird man mit chinesischem Gesang belohnt.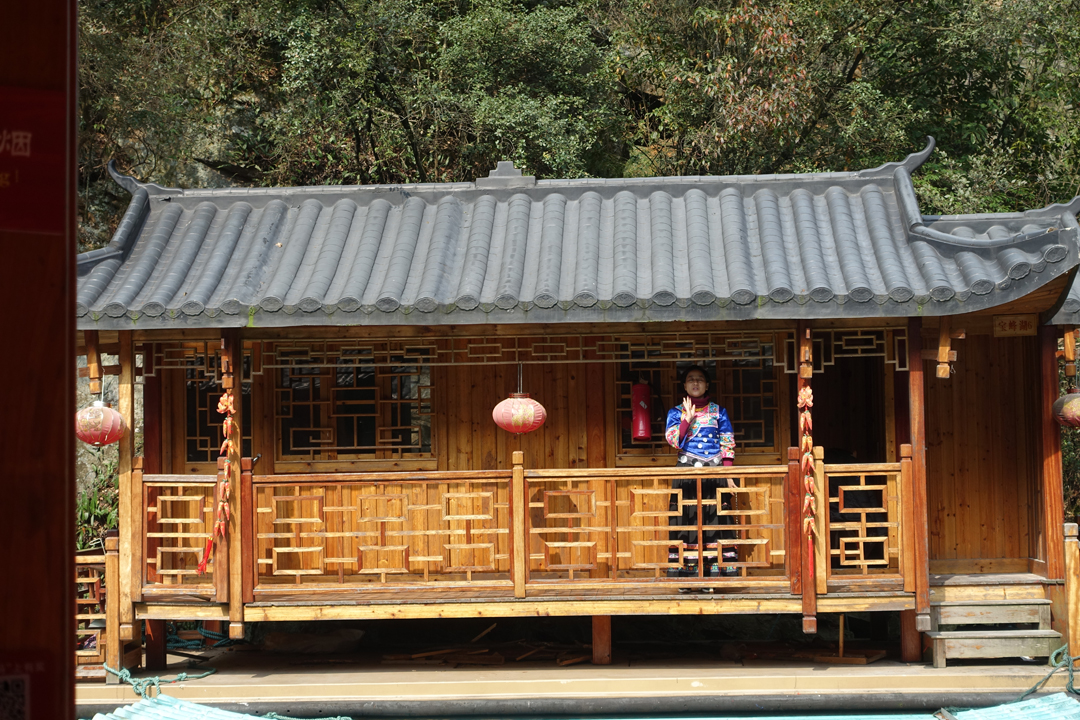 Wird nicht gerade von den Booten her geklatscht oder sonst gelärmt ist die Stimmung tatsächlich sehr schön. Die üppige Vegetation und die Baum-bedeckten Felsen zusammen mit dem smaragdgrünen See erinnern an eine Märchenlandschaft. Vielleicht kommen ja tatsächlich die Feen zum Baden hierher 😉