Day 11 of Everest base camp and Gokyo lakes trek. From Thangnag (4700 m) to Gokyo (4800 m).
---
Heute stand Gokyo und der Gokyo See auf dem Plan. Auf dem Weg überquerten wir den Ngozumpa Gletscher, den grössten Gletscher Nepals. Gemäss seinem Ruf ist er mit seinen 36 km auch der längste im Himalaya.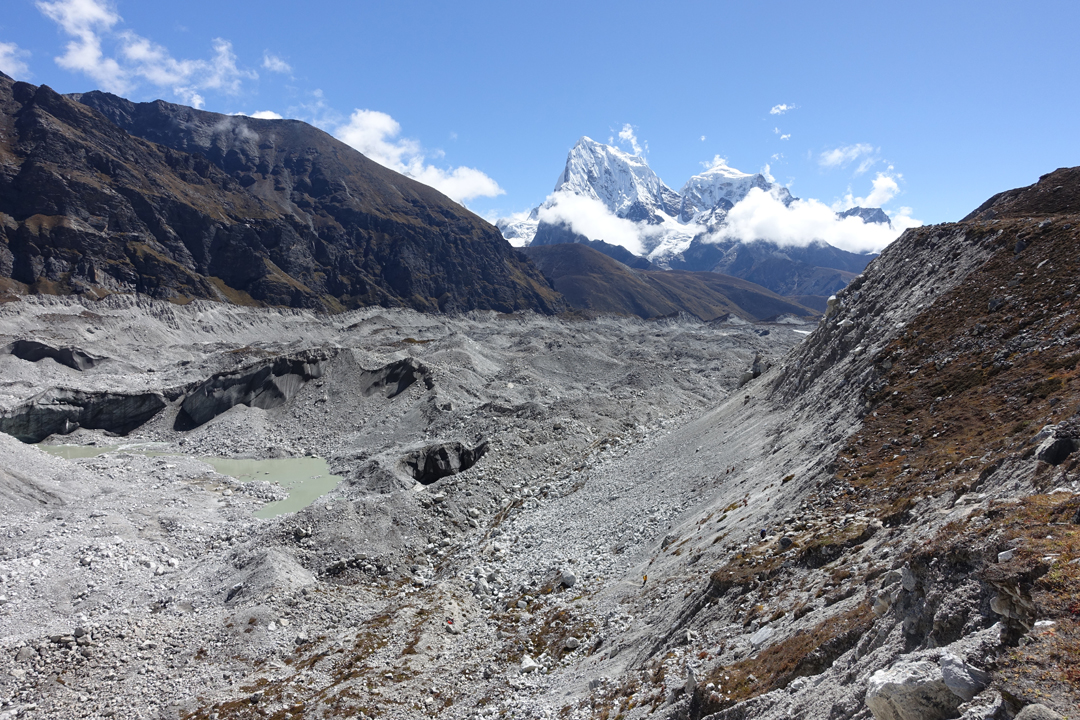 In 4 – 5 Stunden erreichten wir den höchsten Punkt der Seitenmoräne des Gletschers. Die Aussicht war grandios. Der türkisgrüne See schlug uns im Sonnenschein in voller Intensität entgegen.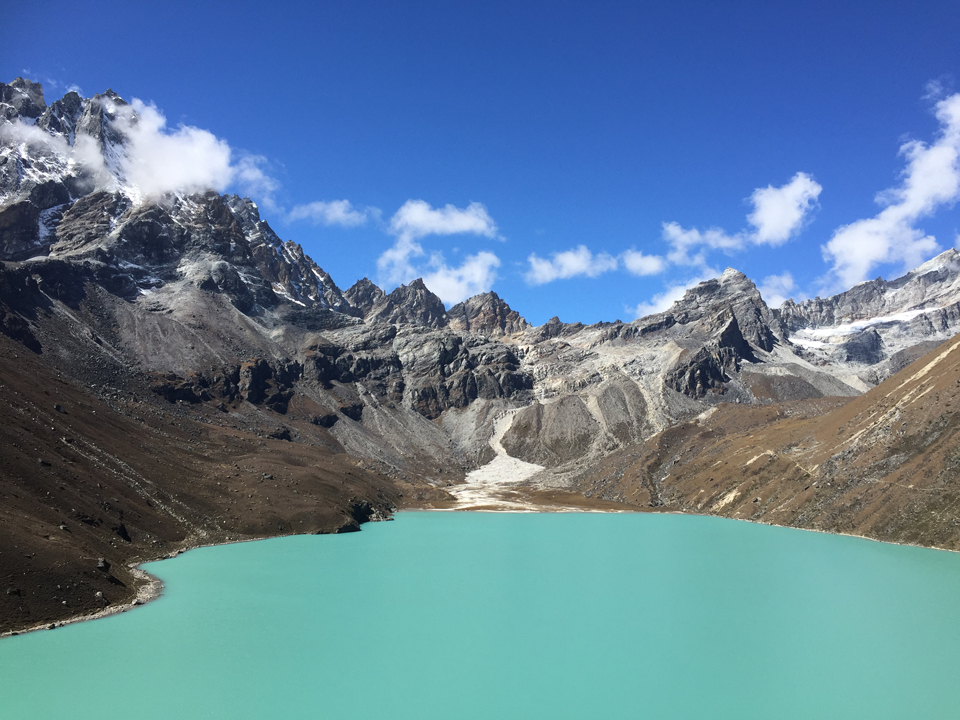 Etwas weiter, vor dem Hintergrund der Schnee bedeckten Himalayas, waren auch schon die pittoresken Steinhäuser von Gokyo in Sicht.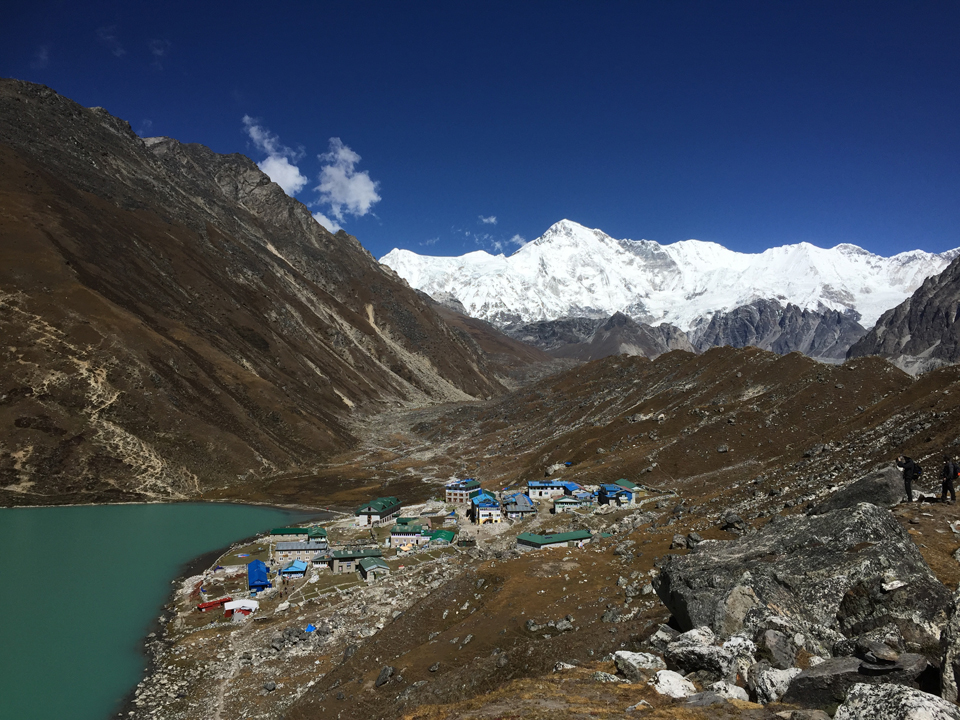 Sollte das Wetter halten, würden wir noch am selben Tag den Gokyo Ri (den Hausberg von Goko, 5360 m) besteigen. Von dessen Gipfel sind vier 8000iger inkl. Everest zu sehen.
Doch das Wetter schlug um und die Wolken rollten ins Tal. Wir beschlossen den Gokyo Ri für den nächsten Morgen aufzusparen, in der Hoffnung auf eine gute Sicht.
Persönlich war ich gar nicht so traurig, an diesem Tag nicht mehr laufen zu müssen. Schon am Morgen früh hatte ich mich unwohl gefühlt und am Nachmittag lag ich dann auch mit Fieber im Bett,
versorgt mit Zitronentee und Popcorn.
Es passiert recht häufig, dass Wanderer auf dem Trek krank werden. Am häufigsten sind wohl Höhenkrankheit und Magenverstimmungen. Um Erstes zu vermeiden muss man viel Wasser trinken und um Letztes zu vermeiden ist es essenziell sauberes Wasser zu trinken. Dafür kauft man entweder Pet-Flaschen oder aber man verwendet Tabletten um die Keime im Wasser abzutöten. Da Abfall in den Himalayas ein grosses Problem darstellt, haben wir es auf dem Trek vermieden Wasserflaschen zu kaufen (und anderen Plastikabfall wieder mitgenommen). Wir haben daher das Wasser mit Micropurpillen aufbereitet und auch gut Acht gegeben, dass wir immer genug lange warten bevor wir es trinken. Im kalten Wasser dauert es über 2 Stunden bis die Tabletten ihre volle Wirkung entfaltet haben.
In meinem Fall war das Fieber allerdings nicht dem Wasser zuzuschreiben, sondern wohl eher einer Erkältung. Hoffentlich würde ich am nächsten Tag fit genug sein für den Aufstieg auf den Gokyo Ri.
---